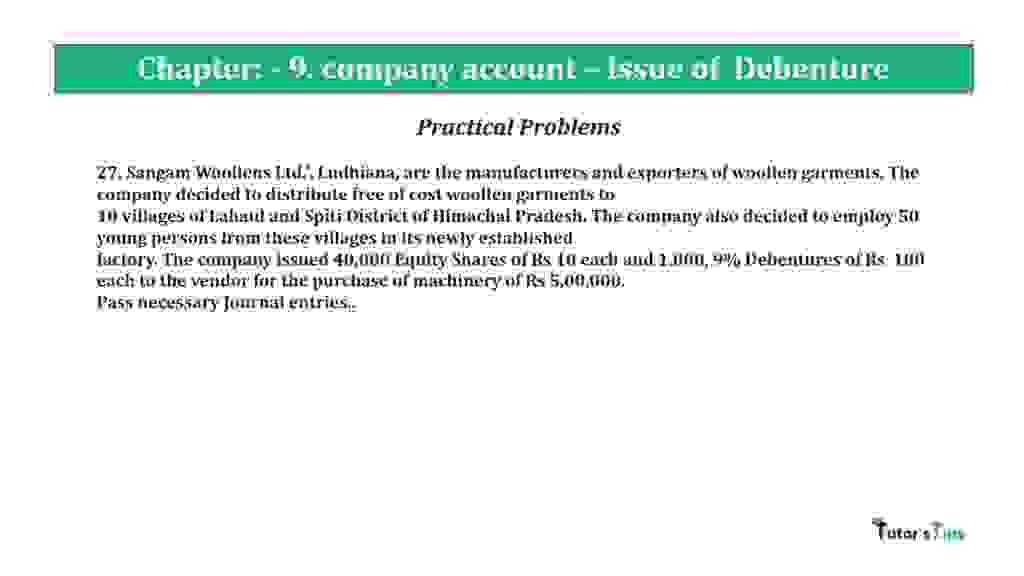 Question 27 Chapter 9 of +2-A
27. Sangam Woollens Ltd.', Ludhiana, are the manufacturers and exporters of woollen garments. The company decided to distribute free of cost woollen garments to10 villages of Lahaul and Spiti District of Himachal Pradesh. The company also decided to employ 50 young persons from these villages in its newly established factory. The company issued 40,000 Equity Shares of Rs 10 each and 1,000, 9% Debentures of Rs 100 each to the vendor for the purchase of machinery of Rs 5,00,000.
Pass necessary Journal entries..
The solution of Question 27 Chapter 9 of +2-A: –
Date

Particulars

L.F.
Debit
Credit
Machinery A/c
Dr
5,00,000
To Vendor A/c
5,00,000
(Being machinery purchased from a vendor . )
Vendor. A/c
Dr
5,00,000
To Equity Shares capital A/c
5,00,000
To 9%Debentures A/c
1,00,000
(Being Equity Shares and debenture issued )

Please Like and share with your friends
Comment if you have any question.
Also, Check out the solved question of previous Chapters: –
T.S. Grewal's Double Entry Book Keeping +2 (Vol. I: Accounting for Not-for-Profit Organizations and Partnership Firms)
T.S. Grewal's Double Entry Book Keeping (Vol. II: Accounting for Companies)
T.S. Grewal's Double Entry Book Keeping (Vol. II: Accounting for Companies)
Check out T.S. Grewal +2 Book 2020@ Official Website of Sultan Chand Publication