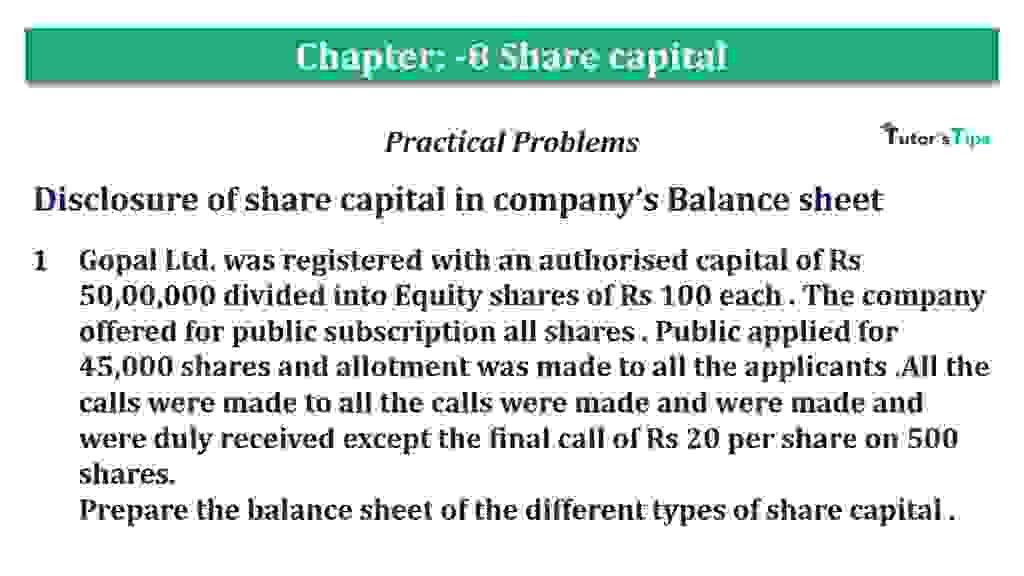 Question 1 Chapter 8 of +2-A
Disclosure of share capital in the company's Balance sheet
1. Gopal Ltd. was registered with an authorised capital of Rs 50,00,000 divided into Equity shares of Rs 100 each. The company offered for public subscription all shares. The public applied for 45,000 shares and an allotment was made to all the applicants. All the calls were made to all the calls were made and were made and were duly received except the final call of Rs 20 per share on 500 shares.
Prepare the balance sheet of the different types of share capital.
The solution of Question 1 Chapter 8 of +2-A: –
In the Books of Gopal Ltd.

Balance Sheet

Particulars
Note
Figures as at the end of the Previous Reporting Period

(1)

(2)

(3)

I. Equity and Liabilities

1. Shareholders' Funds

(a) Share Capital

1
44,90,000
Note No. 1

Particulars
Details

Amount

Share capital

Authorized capital

50,000 Equity share of Rs 100 each

50,00,000
Issued capital

50,000 equity shares of Rs 100 each


Subscribed capital
Subscribed and fully paid-up

45,000 equity shares of Rs 100 each

44,50,000
Subscribed but not fully paid-up


500 equity shares of Rs 100 each

50,000

Less: calls-in-arrears[(500*20)]

10,000

40,000
44,90,000

Thanks, Please Like and share with your friends
Comment if you have any questions.
Also, Check out the solved question of previous Chapters: –
T.S. Grewal's Double Entry Book Keeping +2 (Vol. I: Accounting for Not-for-Profit Organizations and Partnership Firms)
T.S. Grewal's Double Entry Book Keeping (Vol. II: Accounting for Companies)
T.S. Grewal's Double Entry Book Keeping (Vol. II: Accounting for Companies)
Check out T.S. Grewal +2 Book 2020@ Official Website of Sultan Chand Publication